Brian Gallagher and Kimberly Kayler both long-time architecture/engineering/construction (AEC) industry veterans, have published their second book: Building Business with Social Media.
Available in ebook format through Amazon.com, Building Business with Social Media is designed to provide AEC, manufacturing and other business-to-business marketers with a basic understanding of social media tools, while providing ideas to enhance your firm's online presence, build brand awareness and generate demand through the strategic application of social media tools.
"Firms in the AEC industry as well as the manufacturing marketplace need to how to leverage every-changing technology as a competitive marketing advantage," said Gallagher. "The Internet is changing the way people seek and find information, communicate and collaborate. Marketers must develop a strategic approach to social media to spread their message."
Social media presents interesting opportunities for business-to-business fir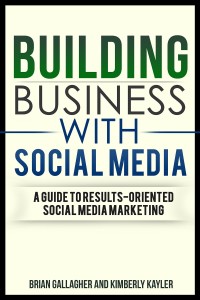 ms to engage inauthentic dialogue and conversation with customers. Based on community and openness, social media presents an opportunity for participation, dialogue and connections. Key to success is weaving your content and message into the social web, making con¬nections with your target audience, communicating in real-time, as well as listening and responding accordingly to these messages.
According to Kayler, it is important to understand that social media is a function of marketing and it helps support other marketing objectives such as building awareness and branding that can lead to a greater return on marketing investment (ROMI). Further, social media can be a means to create more awareness, more visitors and more revenue.
"However, social media is not an end in itself. It cannot and should not replace traditional marketing activities," said Kayler. "Social media should leverage and augment marketing efforts. To get desired results, firms must understand how emerging technologies can complement and enhance traditional marketing efforts."
The authors note that the social media world has different rules, and community users typically don't respond to marketing or advertising messages. Strong editorial content that promotes a product or service can be highly valued, whereas overt advertisements are rejected. Authenticity is essential. For business-to-business firms, developing and implementing a social media strategy will take diligence, commitment, creativity, effort and, most important, purpose. Content needs to be consistently created and managed.
"Firms must view social media as an extension of their brand," said Gallagher. "The media landscape will continue to change and will become more complex. Technology has become much more dynamic and interconnected. The time to implement social media techniques is now, since people are going to talk about your company regardless of whether you choose to participate. The more you know and can manage, the better you are able to listen, engage, and influence your online reputation and your overall image.
Gallagher has served in executive level marketing and sales leadership positions with industry-leading engineering, construction and manufacturing organizations. In his roles with
O'Neal, Inc., Structural Group and Williams Scotsman, Gallagher has provided strategic leadership to the sales and marketing teams. He frequently writes and speaks on AEC marketing, human resource, and leadership topics. In addition, he has co-founded two marketing and sales consultancies, GBM Marketing and Gallagher Strategic, and launched several industry-specific web portals. He holds a bachelor's degree in Marketing from Towson University and an M.B.A. from Loyola College. He also has served as an Adjunct Assistant Professor of Marketing at Loyola College. He has served in leadership roles for various committees with the Associated Builders and Contractors (ABC), the American Concrete Institute (ACI), the Post-Tensioning Institute (PTI), the Concrete Industry Management (CIM) Program, and other organizations. He also is a member of the Society of Marketing Professional Services (SMPS) and has his Certified Professional Services Marketer designation.
With a journalism degree and a decade of high-level experience serving engineering, architecture and construction firms as a corporate marketing executive, as well as experience working for a full-service advertising/marketing communications agency, Kayler started
Constructive Communication, Inc. in 2001 to serve the needs of technical and professional service firms. Clients include a dozen international concrete associations; a variety of general contractors, engineers and architects from around the country; as well as firms in the aerospace, chemical and industrial sectors. Services provided by the growing Constructive
Communication, Inc. team include technical writing, proposal development, public and media relations, social media and marketing/communications. The author of more than 2,500 published articles on a variety of concrete, construction, design, marketing and other technical subjects, Kayler was the first to earn the Certified Professional Services Marketer designation in the state of Ohio from the Society of Marketing Professional Services. She is a frequent speaker on technical marketing, social media, crisis communications and public relations. Although she is a graduate of the University of Arizona, she now calls Columbus, Ohio home. She earned her Master's in Business from Capella University and she currently serves as an adjunct professor of marketing, public relations, branding, sales and customer service at Columbus State Community College. A member of the Society for Marketing Professional Services (SMPS), she also serves on the Board of Directors of the Dublin Convention & Visitors Bureau. Further, Kayler is on the Board of Direction for the American Concrete Institute (ACI). She also serves as Marketing Committee for ACI and serves on a variety of other ACI committees and task groups.
Those interested in learning more about the book should visit www.leadingwithmarketing.com.
To order, visit Amazon.