When companies lead with marketing, they choose which markets to target, what services to offer, how to differentiate, how to communicate, and how to win.
How do AEC firms become leaders in their markets?
Superior customer service, focus on niches, a deep understanding of customer needs, creation of value, impeccable quality, exceptional service, great relationships, a strong brand, a stellar reputation…the list could go on and on.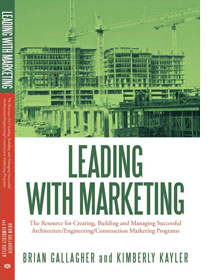 While there may not be a consistent formula for success for all leading AEC firms, a common characteristic is marketing. These firms don't view marketing as an expense, but as an investment.
As a key leader or marketing professional in your organization, your responsibility is to provide leadership to the marketing process. So how can Leading with Marketing help your business?
You can use Leading With Marketing to:
Help frame the vision and direction for your company.
Be a critical component of the strategic planning process by helping provide a critical link to the external environment.
Provide direction and lead your company to focus on certain markets by researching, targeting and segmenting your markets.
Help you understand customer needs.
Define your competitive advantage.
Differentiate your offering and define your value proposition.
Define strategies for targeting and communicating with your audiences.
Implement marketing initiatives and programs.
Provide a feedback loop with your customers.
Link marketing plans, sales plans and account plans.
Demonstrate a return on investment.
Whether it is handled by a department or an individual, marketing is a leadership function in every AEC firm.